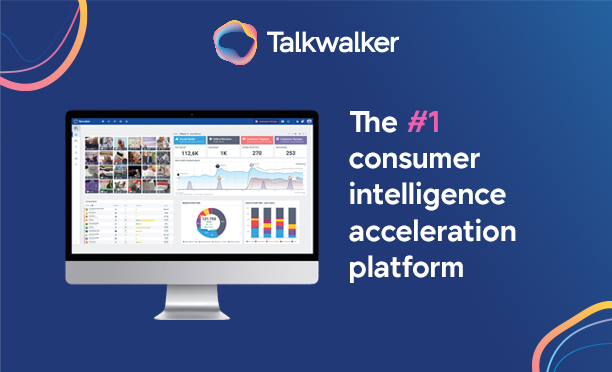 What is Social Listening?
Social Listening is about following online conversations to gain relevant insights. For example, you can track mentions of your brand, specific hashtags related to one of your campaigns, or more global conversations related to your sector and competitors. Listening to conversations will help you find insights about consumers in order to make data-driven strategic decisions.
How can this help businesses?
If you don't listen to consumers, you won't hear about the difficulties they face, you'll ignore requests for help, and you won't get feedback on your products. If you don't listen, you simply won't know what's going on!
"Social networks allow opinion to be expressed, where it is and in the formats that correspond to it. The challenge today is to follow this expression and analyse it to better understand the real issues of concern and the trends. Relevant analysis of opinion is now essential for building a successful marketing or communication strategy. Companies and their managers must listen to opinion in order to understand their audiences and respond in a relevant and effective way to their expectations and needs.
Véronique Reille Soult, Co-Founder, Backbone Consulting
Example:
In September 2022, the American brand Dove, launched its #KeepTheGrey campaign on social media. Its aim was to change the perception of grey hair and combat ageism in the workplace. The inspiration for the campaign was the firing of Lisa LaFlamme, a television journalist, after she let her hair go grey.
Dove changed the colour of its logo and encouraged other brands to do the same. With 5K likes on Instagram and 20K engagements on Twitter, the campaign went instantly viral.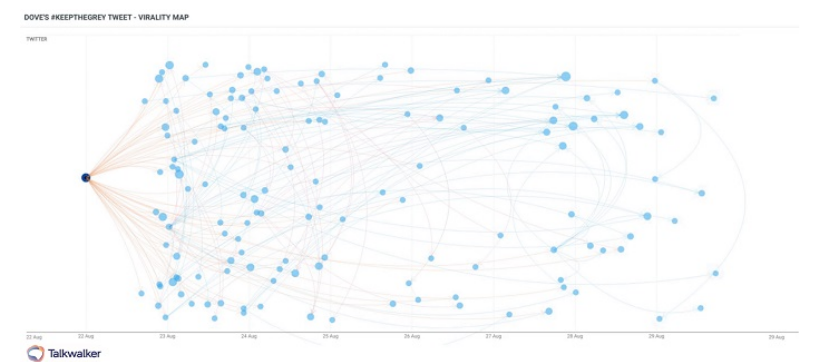 As this example shows, the statistics and insights gathered by social listening tools can help your company evaluate its activities and inform its overall social media strategy.
Audience segmentation and influencer analysis will identify the most promising markets and groups to target. Insights include the best times for engagement, sharing statistics, sentiment, reach and impact.
Tracking this information allows you to judge the visibility and brand perception before and after your campaigns, so you can evaluate their effectiveness and adjust them for future campaigns. You will also be able to identify and analyse trends and get ideas for product development.
For marketers, tracking this information reveals new opportunities. Finding the words and phrases that consumers use allows you to write content that resonates and speak the same language.
Brands can join the conversations and, because they have listened, they can provide real help and advice, and offer products that consumers demand, rather than thinly disguised sales messages. As a result, brand visibility improves, trust increases, leading to more qualified leads and lower churn.
How to use social listening?
Social media monitoring is more than just checking your mentions and notifications regularly!
For example, did you know that 30% of tweets that mention a brand do not use the brand's Twitter handle? Other consumers will misspell your brand name. So you're missing out on a lot of engagement opportunities!
In addition to making sure you capture all mentions of your brand, think of all the benefits related to customer service, influencers, or performance opportunities for your brand…
Let's go through some use cases together!
Improve your content strategy
Social Listening allows you to improve your content strategy, by improving it according to your audience's interest. You will be able to identify trending topics, keywords and hashtags that you should use in your future posts and content.
By identifying the topics that are important to your consumers, you will be able to participate in the debates, lead the conversations and gain visibility.
Practical tip:
After publishing your content, monitor the engagement and spread of the message. Use AI-based sentiment analysis to identify what grabs your audience's attention, and replicate this pattern across all channels and campaigns.
Improve customer service
It has become normal for consumers to ask for help on social media rather than email or call customer service. On Twitter, 60% of customers expect brands to respond to their questions within the hour. If a brand does not use social listening, these minor issues can quickly turn into a major PR crisis.
The same study shows that pleasant and effective customer service can lead to 76% of customers recommending a brand.
A social media listening strategy will allow you to understand your customers' issues, not miss these attempts at interaction and help your existing customers while gaining new ones.
Practical advice:
Make sure you track all variations of your brand, with and without the @ symbol, as well as common misspellings, e.g. talkwaler, talkwater, tallwalker.
Understanding your competitors
Competitive analysis should be part of your social listening strategy. This data will allow you to develop a strategy that will meet new customer demands and possibly win customers over the competition.
Practical tips:
Track keywords that relate to your competitors to understand their behaviour, how they engage with consumers, their marketing strategy and future plans.
You should also track keywords related to any negative comments about your products and those of your competitors.
Identify the best influencers for your brand
74% of consumers rely on social media to guide their purchasing decisions. Influencers' opinions are highly valued and consumers listen to them.
That's why 94% of marketers say they use influencer marketing, which generates 11 times the return on investment of traditional marketing.
Listening to social media allows you to track which influencers are sharing your content, advertising campaigns and posting reviews. This data will help you find influencers that your business can work with to further promote your products.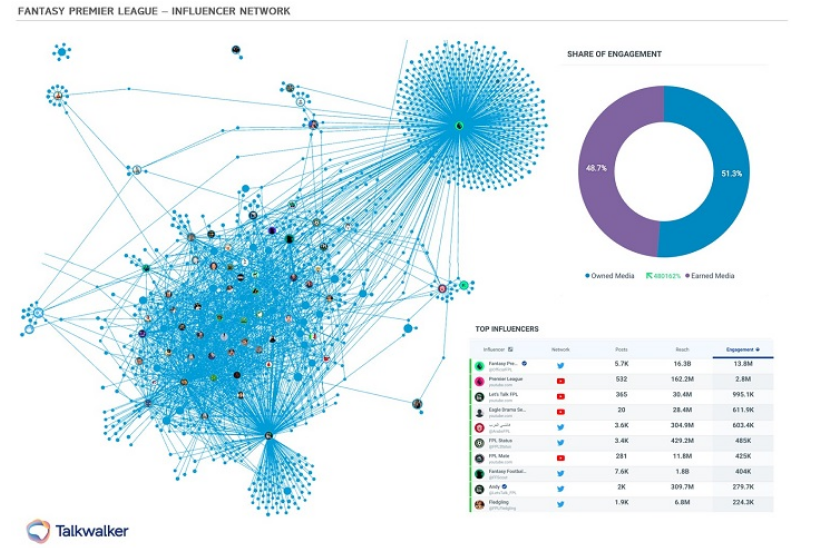 Talkwalker's influencer network shows the dominance of Premier League specific content in terms of engagement, although there is a close community of FPL influencers who help amplify this content.
Once you're working together, social media listening can help you monitor your influencers to ensure they stay on track with your influencer marketing strategy.
Practical tip:
Track hashtags, keywords and phrases. Working on a new campaign? Identify the best hashtags, keywords and phrases to write better content. You can also use a social listening tool to track what's being said about your campaign.
Analyse your audience
If you want consumers to buy your products, you need to understand their needs.
Analysing your audience will reveal demographics (age, gender, location, etc.), when they are online, what platforms they use, what makes them happy, and what they struggle with.
Practical tip:
Using Talkwalker's Consumer Intelligence platform, you will understand how your audience feels with our Blue Silk™ AI-based sentiment analysis. The negative and the positive. You can then plan promotional strategies that target a specific segment of your audience with personalized messages.
Generate more leads
Your social media listening strategy can help generate new leads for your business and increase engagement with potential customers. Identify the keywords that consumers use when they search for products or services similar to yours.
Practical advice:
Follow online conversations, to understand what consumers are asking for and what they want from a brand and its products. Meet consumers, using their language, and talk to them about their needs. Offer them a free demonstration.
Choose the data sources you need to track. Don't overload your team by collecting data from all available sources.
Who can use social media monitoring?
Social media listening is not restricted to certain industries. Companies of all sizes and in all sectors can and should use social media listening. Today more than 2500 brands worldwide, such as Adidas, Maisons du Monde and Somfy, use the Talkwalker platform.
"Not only are online conversations essential for making short-term decisions in response to an ever-changing world of temporary gridlock and shifting societal rules, but they have become a fundamental basis for medium-term business planning and for predicting the long-term effects of the pandemic on future consumer behaviour."
Tiankai Feng
Global Director, Voice of Consumer Analytics, Adidas
The fight against the info-epidemic is likely to continue into the future. At UNICEF MENARO, we will continue to listen to our audience and communicate the importance of trusting only credible sources.
Juliette Touma, Regional Communication Officer, UNICEF
Conclusion:
As you can see, social listening will help you understand consumers: what they say and what they think. About you, but also about your competitors. You'll identify consumer data that will help you measure your brand awareness and find ways to improve your communication and products. Listening to social media will save your business time and money!
If the following are important to your business, a social media listening strategy will keep you on track…
– Brand health: brand equity, brand awareness – assess the health of your brand through benchmarking.
– Brand reputation: track the volume and sentiment of conversations, so you can immediately address spikes in negative mentions.
– Marketing and PR campaign impact: monitor your campaigns, product launches, events, etc., for real-time consumer insights, sentiment and user-generated comments.
– Competitive analysis: competitive intelligence on customer numbers, influencers, sales, social media strategy, paid advertising, PR tactics, customer sentiment towards their brand and products.
– Finding the best influencers: those who talk about your brand and products, or those in your industry who work with your competitors.
– SEO: although we talk about listening to social media, you can monitor the web as a whole – news sites, review sites, forums, blogs, etc. Find mentions of your brand without links. Monitor industry keywords to find high profile sites that you can approach for links.
– Targeted content: use social listening to track industry trends, events, key people, which can guide your content strategy.
About Talkwalker
Talkwalker is the #1 Social Listening and Consumer Intelligence platform, born in Luxembourg and exported worldwide, that helps brands get closer to their consumers. Recognised as a leader in Consumer Intelligence and Social Listening, Talkwalker combines cutting-edge social analytics and AI technology with unstructured data expertise and an international team of insight and data analysis experts.
Talkwalker helps brands make consumer-centric decisions, enabling them to innovate smarter, run more effective campaigns and improve customer experiences. With teams around the world, Talkwalker helps more than 2,500 brands connect with consumers and accelerate their growth. To learn more about Talkwalker, visit www.talkwalker.com or request a free demo.